ESTABLISHED 1987 – The Charleston Motor Carriers Association (CMCA)
is a Non-Profit organizationwith a purpose to provide information to its members, government entities and the general public regarding the trucking industry; to promote highway safety and improve the industry's image, and provide an open forum for the advancement of commerce in the region. Its primary activities are to hold regular meetings and social events in the metropolitan area of Charleston South Carolina, consisting of Charleston, Dorchester and Berkeley Counties.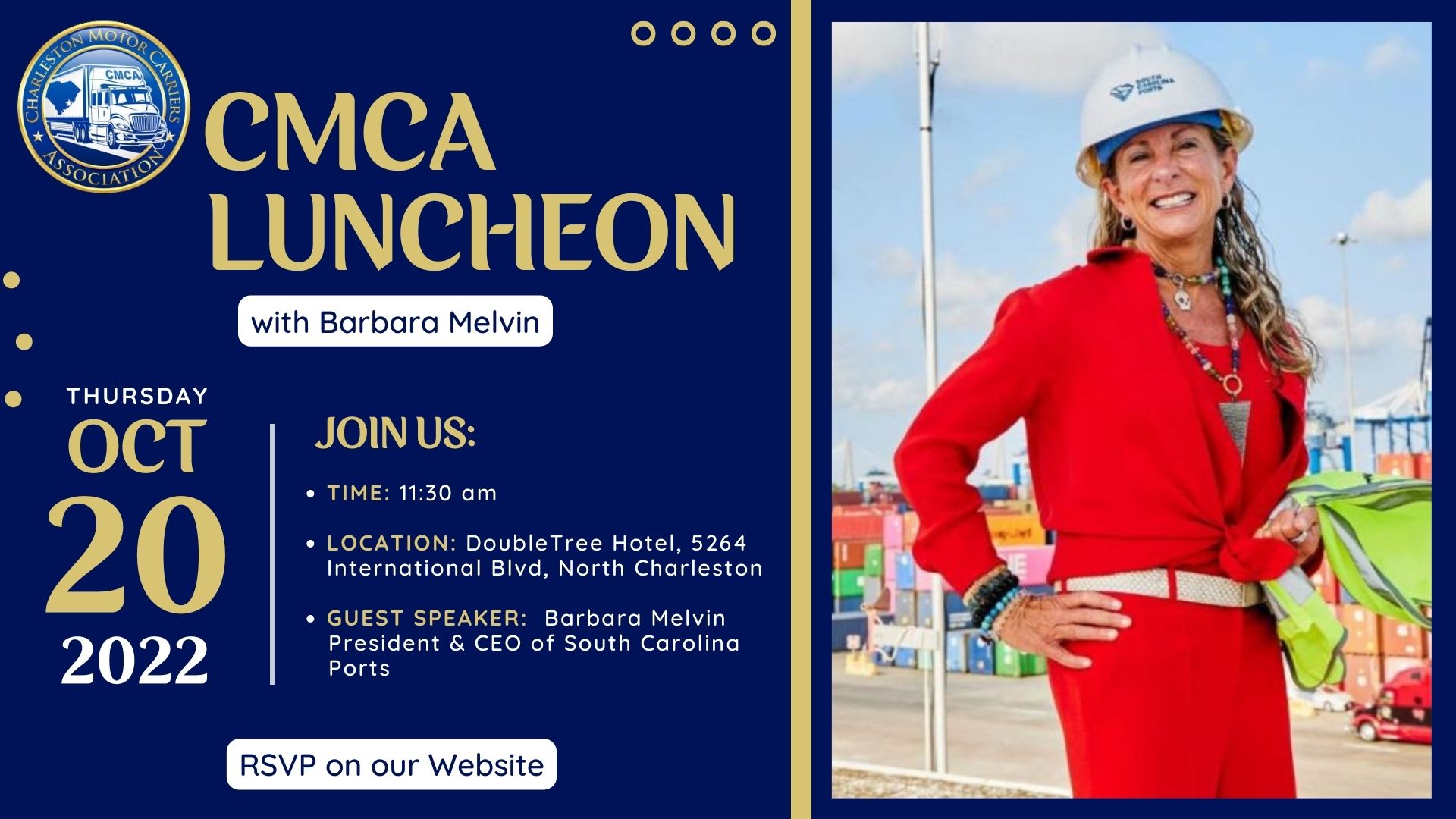 TIME:   STARTS AT 11:30 AM

LOCATION:  Double Tree Hotel, 5264 International Blvd., North Charleston, SC
Join us for the CMCA Luncheon on Thursday, October 20th, at 11:30 am.
Guest Speaker:  Barbara Melvin – President and CEO of South Carolina Ports.
Barbara Melvin became president and CEO of South Carolina Ports on July 1st, 2022. Melvin is the sixth leader in the port's history and the first woman to lead a top 10 U.S. container port.
Melvin previously served as SC Ports' Chief Operating Officer since 2018. As COO, Melvin oversaw terminal operations, carrier sales, information technology, support services, crane and equipment maintenance, engineering, environmental, Port Police, procurement, the logistics solution center, and cruise operations.
During her 20+ years with SC Ports, Melvin has held several senior leadership positions, including senior vice president of operations and terminals, senior vice president of external affairs, and vice president of government relations. In addition to overseeing numerous infrastructure projects, Melvin served as the lead staff person on the Charleston Harbor Deepening Project, which is on track to being the deepest harbor on the East Coast at 52 feet this year.
Before joining SC Ports in 1998, Melvin served as director of Government Relations for the Charleston Metro Chamber of Commerce and as a policy analyst for the Georgia Governor's Office of Planning and Budget.
Ms. Melvin is a Riley Institute Diversity Leadership graduate, a member of the South Carolina Advisory Council of the United States Global Leadership Coalition, the Ports Caucus Advisory Board for the United States Congress, The Citadel Baker School of Business Advisory Board, Board Chair of the American Heart Association Charleston Board (2020-2021), a member of the Trident United Way Board of Directors, a Liberty Fellow, a member of the Board of Trustees for the South Carolina Governor's School of Science and Math and a Board Member of the Intermodal Association of North America. In addition, she is a former Community Advisor for the Junior League, a former member of the Business Advocacy Committee of the Charleston Metro Chamber of Commerce, a past Chair of the South Carolina Chamber of Commerce, and a former member of the board of Charleston Wine+Food Festival, a former member of the board for Communities in Schools and the South Carolina Maritime Foundation.
Ms. Melvin has received many prestigious awards and honors, including:
• 2022 Women of Courage Award from the College of Charleston School of Business
• 2021 South Carolina Manufacturers Alliance (SCMA) Woman of the Year
• 2018 ILA Woman of the Year
• 2017 Center for Women's Most Influential Women Wrecking Ball Award
• 2014 Charleston Women in International Trade (CWIT) Woman of the Year
• 2014 Propeller Club of Charleston and Southeast Region Maritime Person of the Year
• 2014 National Transportation Week Leader of the Year
• 2014 Columbia South Carolina's Top Women of Influence Award
Ms. Melvin holds a bachelor's degree in political science from Georgia Southern University with a minor in international relations and a Masters in Business Administration in Global Supply Chain from the University of Tennessee Haslam School of Business.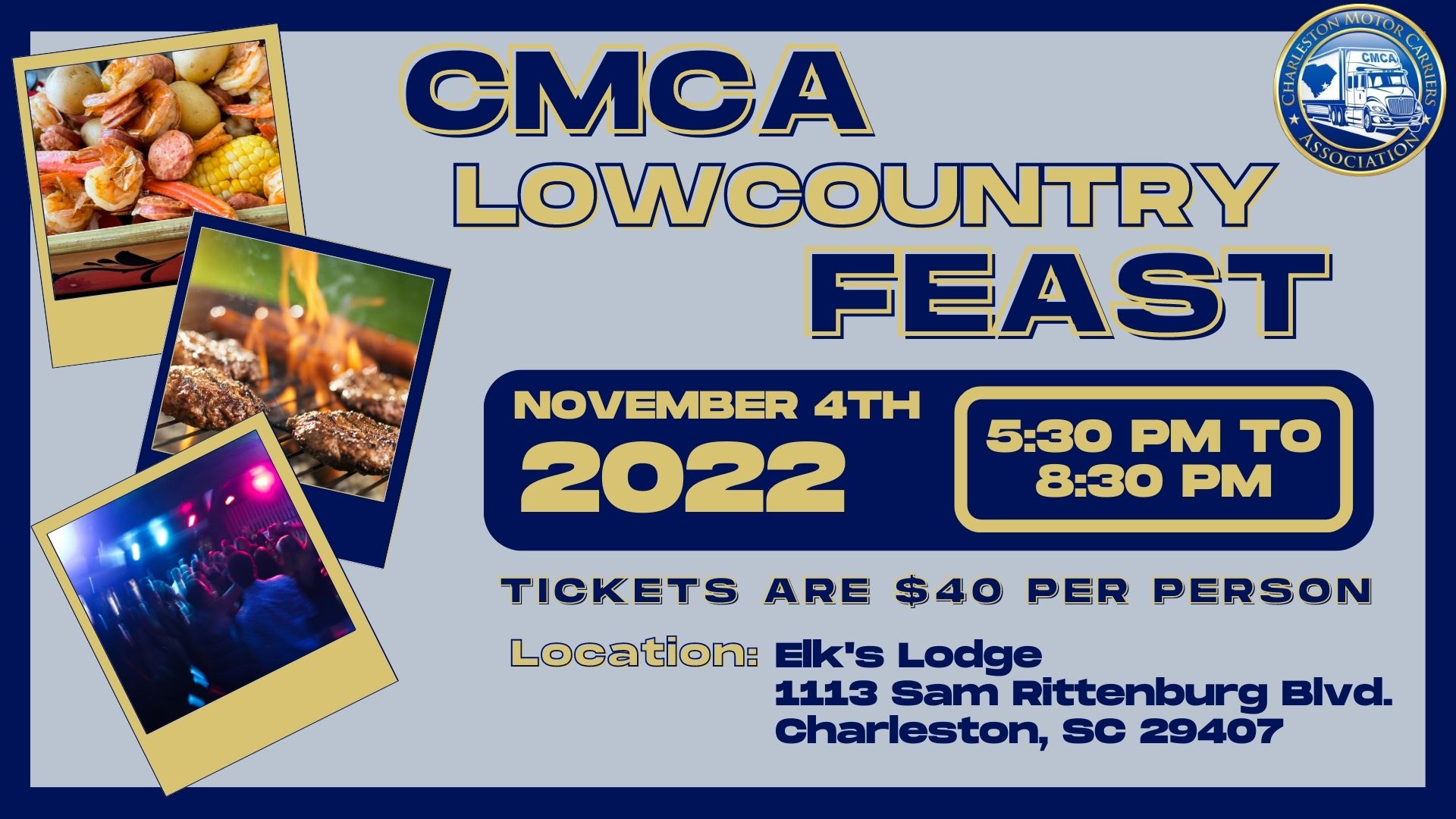 TIME:   STARTS AT 5:30 PM TO 8:30 PM

LOCATION:  Elk's Lodge, 1113 Sam Rittenburg Blvd., Charleston, SC 29407
LOW COUNTRY BOIL, BBQ, BEER & WINE –
Join us on November 4th from 5:30 pm to 8:30 pm for a Lowcountry Boil, BBQ, Beer, Wine, music, and dancing at Elks Lodge at 1113 Sam Rittenberg Blvd, Charleston, SC 29407. The tickets are $40 per person. Please contact michele.liquidbox@gmail.com or 843.745.0023 for tickets. See you there!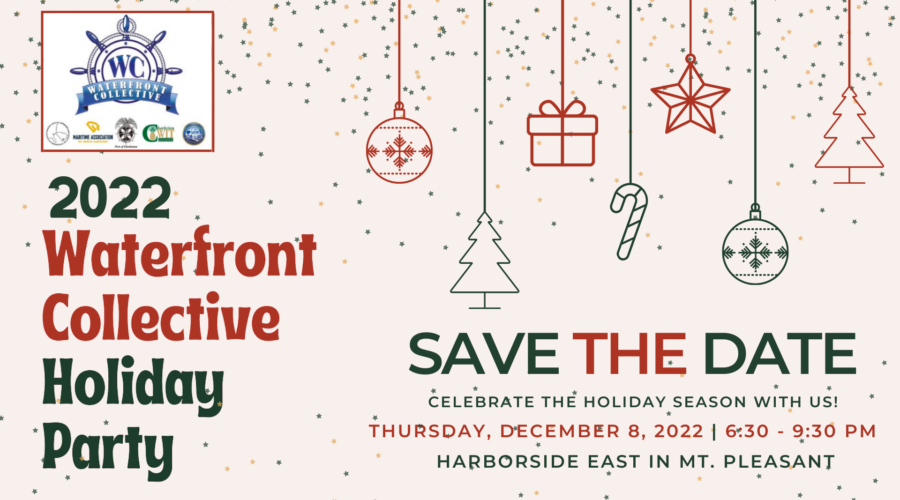 DATE:  THURSDAY, DECEMBER 8, 2022

TIME:   6:30 PM TO 9:30 PM

LOCATION:  HARBORSIDE EAST – MT. PLEASANT, SC

The Waterfront Collective made up of: The Propeller Club of Charleston, CWIT, MASC, CBFFAC, and CMCA is excited to host the annual Holiday Party at Harborside East. With beautiful views of Charleston Harbor and plenty of free parking, this is a great opportunity to entertain your co-workers, employees, and customers. Enjoy a great evening of maritime camaraderie, food, and drink.
Sponsorships are available and included below:
Event Sponsor – $1,100 (6 tickets, logo on ppt & door sign)
Bar Sponsor –  $850 (4 tickets, logo on ppt and bar)
Gold Sponsor – $650 (3 tickets, logo on ppt)
Silver Sponsor – $300 (2 tickets, logo on ppt)
Individual Tickets – $75 (early bird – ends November 4th) // $85 regular
PowerPoint Sponsor – $100 (No tickets)
REGISTER ONLINE TODAY HERE.  You can also mail payment to Propeller Club, P. O. Box 147, Charleston, SC  29402
 Advanced payment is required.  Reservations must be made by Monday, November 21, 2022.
 Please contact Taylor Jackson at tjackson@sccompetes.org or 864.992.4338 with any questions.